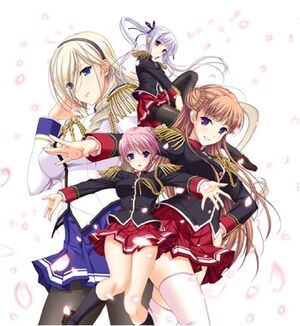 Walkure Romanze: Shōjo Kishi Monogatari (ワルキューレ ロマンツェ 少女騎士物語, Warukyūre Romantse Shōjo Kishi Monogatari), also abbreviated as Walroma (ワルロマ, Waruroma), is a Japanese adult visual novel developed by Ricotta for Windows PCs. It is Ricotta's second visual novel after Princess Lover! which was released on October 28, 2011.
On August 9, 2012, Ricotta announced a fandisc titled Walkure Romanze More&More was in production which was eventually released on October 25, 2013. An anime TV series adaptation produced by Eight Bit and directed by Yūsuke Yamamoto aired from October 6 to December 22, 2013.
In a large European town called Helenshill (ヘレンズヒル, Helenshill), there lies a prestigious joust school called the Winford Academy. The students train to become Knights and Begleiter where they captivate the crowd through their spectacular duels. The story revolves around Takahiro Mizuno, a Japanese male who was once a jousting prodigy until a fateful injury forces him out of the spotlight and living out his boredom as a stable boy.
But as of present, encounters with maiden knights in bloom encourage him to retake the spotlight in this year's tournament. So how will Takahiro choose to be with the heroine/best female knight out there?
Characters
Edit
Graphic Design: CLASSLABEL DESIGN LIMITED
Graphic Cheif: Asaba
Debug: Ricotta
Reception
Edit
In Getchu.com's 2011 Bishōjo Game Awards (based on user votes), Walkure Romanze won first place in the Graphics category, second place in Ero, as well as 20th place overall. The game was also Getchu's fifth best selling game for 2011.
External Links
Edit
Community content is available under
CC-BY-SA
unless otherwise noted.